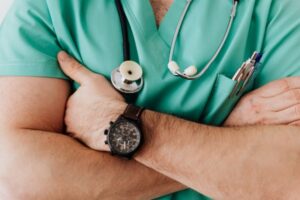 As a public relations specialist the first thing I look for on a potential client's website is a "press" or "in the news" page. This tells me if, and how recently, the prospective client has been working on media relations. I frown when I see a dated press page. To me that's almost worse than no page at all. It says "he/she used to be relevant and a contributor in the media, but for some reason that's no longer the case." Doctor public relations results need to be current for the best impact.
But what is the value of a press section on a doctor's website? How does it help the doctor professionally. There are a number of answers. Read on for some insights on the advantages for doctors and wellness experts of having a press page.
One of the most obvious benefits of a press page is that it enhances credibility about the doctor. The press page serves as evidence about the doctor's expertise and accomplishments. After all, there are lots of doctors and being the one singled out for commentary in the media is a sign of importance. Doctor public relations on a press page illustrates leadership in their field. And it builds on their credibility to all their key target audiences including patients, colleagues, and the general public.
A press page also showcases the doctor's media mentions to a wide audience. It documents articles about the doctor or in which the doctor provided commentary. This helps to build on the reputation of the doctor as a thought leader. It can help to generate additional interview requests, help attract new patients, create brands awareness and increase visibility for referring doctors and medical establishments.
An increasingly important value of a press page is that it has search engine optimization (SEO) benefits. Doctors can add content along with a link to an article in which they were quoted when posting it to their press page. This can include relevant keywords, headlines, and meta descriptions, that all have impact on Google search rankings. When key target audience such as journalists, patients, or other professionals, search for topics related to the doctor's expertise, having a well-optimized press page can increase the chances of the website appearing higher in search results, thereby driving more organic traffic to the doctor's site.
In addition to the SEO value of a press page, the page also provides a convenient point of contact for journalists and media professionals who are interested in garnering opinion and commentary for their stories. It shows journalists that the doctor is experienced at working with the media. A large and current press page shows journalists that the doctor provides good commentary as witnessed by the fact that they are quoted often. Publicity begets more publicity.
A press page can also help to build trust between the doctor and his current and prospective patients. When people see that the doctor has been featured in reputable publications or has been interviewed by respected media outlets, it adds to their credibility and expertise. This can instill confidence and make patients more likely to choose the doctor for their healthcare needs.
Lastly, a press page is a wonderful referral tool. When other healthcare professionals, journalists, or potential collaborators visit the doctor's website and see their press page, they may be more inclined to refer patients or seek collaborations based on the doctor's demonstrated expertise.
Overall, a press page on a doctor's website is an effective means for building credibility, generating more publicity, enhancing trust, attracting new patients and keeping current patients, and establishing the doctor as a recognized expert in their field.